The Entertainment Forum at The American University of Rome presents An Evening in Conversation with Kate Walsh, star of Grey's Anatomy, 13 Reasons Why, and Fargo - to mention just a few.
Please note: this event is now sold out. No further registrations are possible.
---
Kate Walsh was born in San Jose, California, amd grew up partly in San Jose and partly in Tucson, Arizona, later attending the University of Arizona, where she got involved in regional theater. She later moved to Chicago where she began working with the Piven Theatre Workshop and, later, the Chicago Shakespeare Repertory. She performed on National Public Radio in the production of the radio play "Born Guilty". Walsh later moved to New York City and joined the comedy troupe "Burn Manhattan", performing in a number of Off-Broadway plays.
Her first major television appearance was in 1997, when she appeared on The Drew Carey Show as Drew Carey's love interest, Nicki Fifer. She wore a fatsuit in some episodes of the show, as the Nicki character was a formerly obese woman who lost weight and slowly started to gain it back.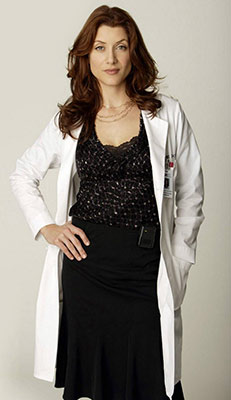 She went on to portray Carol Nelson in HBO's The Mind of the Married Man television series, and played Norm Macdonald's romantic interest in the sitcom The Norm Show. 
In 2005, she was cast in her breakout role in the ABC series Grey's Anatomy, as Dr. Addison Montgomery, the estranged spouse of Derek Shepherd ("Dr. McDreamy", played by Patrick Dempsey).
It was announced in February 2007 that Walsh's Grey's Anatomy character would be in a spin-off of Grey's Anatomy, Private Practice, that began airing in September 2007.
In 2013, Walsh appeared in Full Circle, a 10-episode ensemble drama series created by Neil LaBute and airing on DirecTV's Audience Network channel.
In 2014, Walsh had a supporting role in the first season of FX's television series Fargo. She had a guest starring role in Hulu's original series The Hotwives of Orlando and later starred in the NBC series Bad Judge, which aired for one season. As of 2017, Walsh stars in the Netflix drama series 13 Reasons Why, as the mother of a child who dies from suicide. Her performance was met with critical acclaim, having been dubbed the "best work" of her career.
Film roles
In 1995, she starred in her first movie. The Normal Life was her debut in the big screen. She played the sister of a bank robber played by Luke Perry. In Peppermills, she portrayed a kleptomaniac. Walsh appeared in the cult movie, Henry: Portrait of a Serial Killer, Part II. She gained attention in a major Hollywood production as Will Ferrell's character's wife in the family comedy, Kicking & Screaming, alongside Robert Duvall and Mike Ditka. Walsh has appeared in several other films with Ferrell, including Bewitched and an "alternate film" to Anchorman titled, Wake Up, Ron Burgundy: The Lost Movie.
In 2003, Walsh appeared in Under the Tuscan Sun, with Diane Lane and Sandra Oh. She played the partner of Sandra Oh's character. 
Walsh starred alongside Dennis Quaid and Paul Bettany in the biblical horror film Legion, that was released on January 22, 2010. She played Charlie's mother in The Perks of Being a Wallflower.
Theatre
In May 2010, Walsh made her off-Broadway debut opposite Paul Sparks in Atlantic Theater Company's world premiere of Stephen Belber's Dusk Rings a Bell. She also had a long theater career in Chicago, which included roles in Happy Birthday Wanda June, The Danube, Moon Under Miami and Troilus and Cressida. In New York, Walsh was a member of the improvisational comedy troupe Burn Manhattan and the New York City Players theater ensemble.
Fashion
Walsh founded Boyfriend LLC, a beauty and lifestyle company in 2010. The company launched its first product in November 2010: a perfume called "Boyfriend".
---
Please note: this event is now sold out. No further registrations are possible.