The American University of Rome supports student endeavors to gain 'real-world,' practical work experience by offering exclusive internship opportunities. Academic internships for course credit provide students with a practical way of relating their studies to their career interests.
2017 testimonials
Rose Robitaille, M.A. Food Studies
Bioversity International, Italy
 
While undertaking my studies at the American University of Rome I simultaneously completed an internship for the organization Bioversity International at their headquarters, located in Maccarese, near Rome. Within the broad discipline of food studies, the relationship between diversity and food security has emerged as one of my topics of concentration. Therefore, I was thrilled to be offered the opportunity to work with an organization that specializes in biodiversity research. Bioversity International is a global research for development organization working to provide scientific evidence, management practices, and policy options to use and safeguard agricultural and tree biodiversity for global food and nutrition security.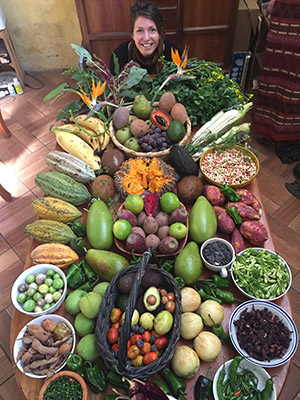 The internship objective was to compile a policy analysis for the use enhancement of local agricultural biodiversity in Guatemala. This analysis was undertaken as part of the project called "Linking agrobiodiversity value chains, climate adaptation and nutrition" funded by International Fund for Agricultural Development (IFAD) and European Union (EU). My internship was supported by the Healthy Diets and Sustainable Food Systems Initiative at Bioversity International. The focus of the project is to enhance the production, use, and commercialization of neglected and underutilized species (NUS) to support climate change adaptation, strengthen food security, nutrition, and incomes of resource poor communities in Guatemala, India, and Mali.
................................................................
Zachary Reif, M.A. Food Studies
Katchkie Farm, Kinderhook, New York
My internship with Katchkie Farm has been a wonderful way to tie together my personal interests in food, with my formal education at AUR. In the almost four months I have worked for the farm, my responsibilites have rapidly increased. In addition to working as part of the CSA (community supported agriculture) distribution team, I am the farmers market manager at two different market locations. I am also the writer and editor for Katchkie's weekly newsletter: an informative e-mail that is received by over 3,000 recipients. The e-mail highlights various ways to use your CSA vegetables including storage tips and recipes. I have loved my time with Katchkie—it has provided a unique experience to round out my education as I look forward to my professional career ahead.

................................................................
Victoria Rose, M.A. Food Studies
Bioversity International, Italy
From November 2016-May 2017, I was a part-time intern for Bioversity International as a part of the Healthy diets from sustainable food systems initiative. Within this initiative, my work was related to the project "Linking agrobiodiversity value chains, climate adaptation and nutrition: Empowering the poor to manage risk".  This project focuses on enhancing production, utilization, and commercialization of neglected and underutilized species (NUS) as a method to adapt agriculture to climate change and improve food security and nutrition, while also enhancing incomes in rural communities in three countries: Mali, India, and Guatemala. In each country, two NUS are being targeted for agronomic and market research. These NUS were identified as target crops based on research of traditional crops being used by the rural poor in these countries, and included the following: Bambara groundnut and fonio in Mali, kodo and kutki millets in India, and chaya ad tepary bean in Guatemala. In order to achieve the goals of this project, a holistic value chain approach is applied which involves inter-sectoral initiatives to enhance supply and demand through techniques such as enhanced seed quality, improved cultivation and processing practices, and targeted marketing and awareness raising about these crops, as well as changing cultural attitudes and beliefs towards cultivation and utilization of the crops.
My work for this project involved developing six briefs promoting each of the target crops. These briefs were to include information on the general features of each crop, nutrition value of each crop (including anti-nutrients), stages in processing and challenges (including possible nutrition loss at different stages), and traditional recipes incorporating each crop. I was also responsible for conducting a literature review on agronomic, economic, and nutritional properties of the crops, and constructing food composition tables for each crop. In addition, I transferred the information gathered from the briefs onto webpages on the NUS Community website, and designed separate webpages for each of the six target crops.
................................................................
Collier Lumpkin, M.A. Food Studies
Food and Agriculture Organization of the United Nations (FAO), Italy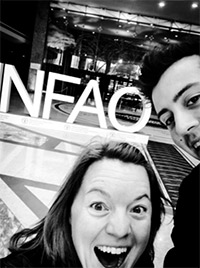 For the spring of 2017, I completed an editorial internship in the Integrated Production and Pest Management division of the Food and Agriculture Organization of the United Nations. Under the supervision of department staff, my AUR colleagues and I worked on crafting content and editing collaborators' inputs on the Innovative Markets for Sustainable Agriculture guidebook, with a publication date slated for late fall 2017.
We spent the spring researching innovative models in agriculture for organizing, pricing, advocating, and packaging, amongst many other things, across the globe, with a concerted focus on finding examples of exemplary ideas created and produced in the global south. We worked extensively with collaborators from Uganda, Philippines, Colombia, and Tanzania, to name but a few, to create content that highlighted productive, novel global practices that support farmers as they transition from subsistence growing toward entrance in the global economic marketplace.
Throughout my time at UNFAO, I also attended numerous sessions, workshops, and lectures, and presented to a group of American Study Abroad students focused on food policy in the global landscape.
By the end of our internship, we had completed 10 out of the 12 originally slated chapters, and were working towards an all-contributor editing session in Havana, Cuba in late fall of 2017. After said editing, the guidebook should be complete for publication soon thereafter.
................................................................
Susan Boohaker, M.A. Food Studies
Food and Agriculture Organization of the United Nations (FAO), Italy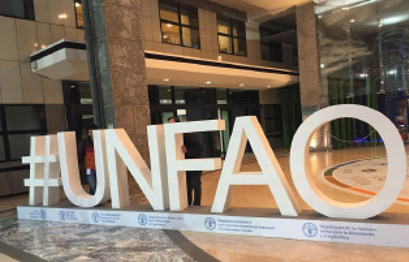 During the Spring 2017, I had the privilege to intern at the Food and Agriculture Organization (FAO) headquartered in Rome, Italy. Alongside with courses taken at AUR during the spring semester, I worked for a total of 150 hours in a span of five months on a guide for innovators who are creating sustainable local food systems in developing countries. The finished product will be handed out to practitioners who have a heavy hand in the sustainable agriculture movement in developing countries; so being a part of this process at the FAO was fascinating. Not only did I learn how sustainable agriculture is implemented in countries of need, but I was able to directly apply my working knowledge of sustainable food systems from the classes I took at AUR.
................................................................
Ren Cao, M.A. Food Studies
Bioversity International, Rome, Italy
 
The internship I completed with Bioversity International has given me the opportunity to explore many different areas of study, including environmental policy, food, and livelihood. As a member of the External Engagement Department at Bioversity International, my primary duty was to undertake a desk review that profiles and helps identify candidate city-rural regions (up to 100km from the city) in the southern and northern Mediterranean suitable for a proposal to develop cross border alliances that promote business and small and medium enterprise (SME) development through strengthening of networks and value chains and food system diversification, nutrition, and environmental health. My day-to-day work has involved everything in the office from drafting a policy paper based necessary candidate regional data to developing a comprehensive proposal focused on Bioversity International's role and strength in using the agro-biodiversity index to improve local livelihood resilience in the identified candidate regions in response to changing rural-urban migration pattern. These data have been reported to the internship supervisor regularly and preserved for drafting Bioversity's submission of proposal for the ENI-CBC "Cross Border Cooperation" policy program for strengthening cooperation between the Northern and Southern sides of the Mediterranean Sea. During this internship experience, I have learned quite a lot about the international research institute and the practical research experience that will help me succeed in future academic and professional experiences.
................................................................
Nicholas Mascia, M.A. Food Studies
 
Food and Agriculture Organization of the United Nations (FAO), Italy
 


Interning at the Food and Agriculture Organization of the United Nations was an integral part of my graduate degree. The position, which I attained because of AUR's relationship with FAO, allowed me to apply, question, and expand what I was learning in the classroom at an organization whose main mission aligns with core elements of the Food Studies Master's Degree. When deciding on a graduate degree program, I searched for an opportunity that would allow me to use my undergraduate studies of business and finance to work in development in poorer areas, specifically those defined as rural and agricultural. The internship gave me access to a team whose assignments were exactly in the field in which I wanted exposure. The RuralInvest team at FAO created a toolkit that is meant to be used to identify, prepare, evaluate, and monitor investment projects in rural areas. The toolkit is available to governments, NGOs, and private organizations worldwide who wish to use it. My role on the RuralInvest team was to help the group further develop and fine tune the toolkit by testing the software, and enhancing training materials. My time and work at FAO gave me unparalleled experience with key professionals in the world of rural development and improved my understanding of what action is being taken globally to alleviate rural poverty.
................................................................
2016 testimonials
Bethany Eigenfeld, M.A. Food Studies
World Food Programme, Italy
For the internship course of the Food Studies Master's program at the American University of Rome, I had the opportunity to work at the World Food Programme headquarters. My contract was with the Market Analysis team of the Vulnerability Analysis and Mapping (VAM) unit, however I have also had the chance to work with the mobile VAM unit (mVAM) on some of their surveys as well as on my Master's thesis. The most fulfilling experience of my internship thus far has been a migration study conducted by the market team with the help of the mVAM team, especially as parts of the study were very helpful and relevant to my thesis. The migration report done by VAM helped to provide evidence of food insecurity as being a key driver of international migration and refugees. It also established links between armed conflict, food security, international migration, and refugees. Understanding the effect of conflict on food security has been where I have directed my studies at AUR, making the opportunity to work with the subject in a professional setting an amazing turn of events. The main recommendations that came out from the migration study done during my time at WFP were to continue research into the food security of countries with high amounts of refugees and migrants as well as to further development of understanding the links between conflict and food security. In terms of my program at AUR, these recommendations have fit very well into the research I have done throughout my studies and for my thesis. And last but not least, I also had the exciting and rewarding opportunity to participate in a FAO session to present the focus group discussion section of the migration study I worked on during my internship.
................................................................
Theresa Lonetti, M.A. Food Studies
Bioversity International. Italy

My internship at Bioversity International gave me first-hand experience in applying to real life situations the lessons learned during the M.A. Food Studies program on development, policy, agricultural practices, and research methods. The internship tasks consisted of reviewing literature and landmark publications on conservation and sustainable use of on-farm conservation and participatory plant breeding in order to provide a report on background and context, methods and approaches, advantages and disadvantages, main achievements, barriers and constraints and future opportunities of these practices.
This internship was focused on various issues discussed in the Food Studies program including: the projected growth of global population to 9 billion by 2050, the SDGs eradicating poverty and hunger by 2030, the fundamental ideas of climate change adaptability, equity, biodiversity, agricultural practices, and using a bottom-up approach of partnering with small farmers to ensure adoption and resilience for a sustainable increase in food production for a more food secure future. It was important for me to see that all of these topics discussed in the program's courses are at the center of international organizations like Bioversity, thus proving that the Food Studies program at AUR provides students with the tools to be knowledgeable and useful in the context of global international development.
................................................................
Rita B. Pacheco, M.A. Food Studies

Food and Agriculture Organization of the United Nations (FAO), Italy
I had the valuable opportunity to do an internship with the Nutrition and Food Systems Division (ESN) of the Food and Agriculture Organization of the United Nations (FAO). My main tasks included reviewing draft documents of training materials, which would eventually become publications. I also developed an analysis on food logistics. This internship opportunity strengthened my conviction that poverty, food insecurity and malnutrition issues are no longer exclusively rural concerns; they are serious urban developmental problems that need to be addressed by country authorities and development agencies worldwide. In order to achieve FAO's three main goals: eradication of hunger, food insecurity and malnutrition, elimination of poverty and the pursuit of economic and social progress, there has to be an improvement in food systems and food consumption patterns, among other factors.
................................................................
Christina Kae, M.A. Food Studies
Bioversity International, Italy
The internship I have completed was through Bioversity International in the nutrition division. I first heard about said internship through an email that was circulated by American University of Rome's Food Studies program director, Maria Grazia Quieti. I was extremely interested in working for Bioversity International as well as conducting work that was close to the context of the classes I took during my time obtaining my undergraduate degree. This was due to the fact that I was extremely interested in the topic and wanted to focus my thesis and future endeavors in the realm of improvement of diets/nutrition.
Bioversity International stood out to me when the director general came to a visit at the American University of Rome and conducted a lecture for the faculty and staff. The fact that the organization focuses on improving environmental conditions while improving diets and looking at the biodiversity that was already present in the area fit in with how I sought to address the issues of food insecurity, land degradation, and biodiversity loss. Bioversity International's headquarters are stationed here in Rome; however, they have offices across the globe. This includes Europe, Central and South America, Africa, and Asia. The organization's initiatives are focused on a number of key topics including: healthy diets; farms, forests, landscapes and genetic resources, and their research portfolio addresses a wide variety of issues including: adaptation to climate change, agricultural ecosystems, banana genetic resources and management systems, conservation of crop diversity, diet diversity, forest and tree crop diversity, markets for diverse species and policies for plant diversity management. The experience that I have gained from this internship is incredible; to be able to learn more about myself and my abilities in research and in the workforce are worth more than I can imagine. This worth cannot even begin to include my understanding of the way that the CGIAR centers in particular operate, along with the knowledge gained on how programs are brought about, implemented and reported. Having established connections with lead researchers in the field of my current and future interest is something that I cannot put a value on as well. I will forever be grateful for the opportunities that I have received from the American University of Rome and from Bioversity International. I can only hope that I will take all the lessons that I have learned with me in all my future endeavors.
................................................................
Giulia Tufano, M.A. Food Studies
BRAC Institute of Governance and Development (BIGD), Bangladesh
The internship which I had the fortune to undertake was at the BRAC Institute of Governance and Development (BIGD) in Dhaka, Bangladesh. My overall impression and thoughts on this experience are very positive. This internship enriched me both personally and professionally, and I am very grateful to the University for having made this possible. I feel that the possibility of the "hands-on" experience in a Master's degree is essential and can only better and reward you. Some of the achievements obtained through a series of main and minor tasks during this internship include making contact with some of the principle investigators of Microcredit research projects at BRAC and the world-famous Grameen Bank, which I could not have achieved if I had been in Rome. The main and most valuable achievement, however, was the two-week field trip that I had the fortune to participate in to the largest slum in Dhaka, the Korail Slum. I was often saddened by the poverty, which is so evident. I will never forget the terrible conditions that these poor people are obliged to live in. I was able to actually see with my own eyes the terrible and sad conditions of poverty that still exist there, not to just read about it in books and newspapers.  This experience reinforced my desire to work in a humanitarian organization in the future.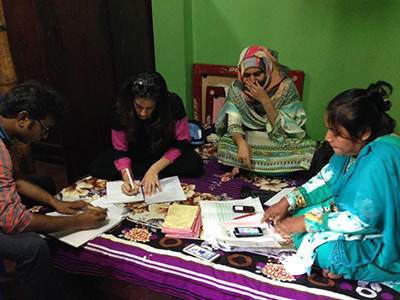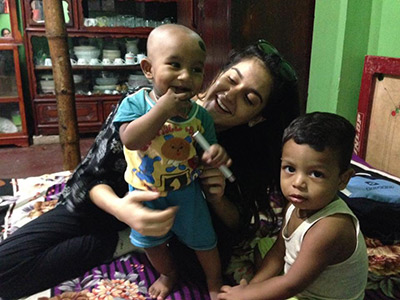 ................................................................
Elinor ZE Brett, M.A. Food Studies
Un Development Programme, NUPRP Headquarters, Bangladesh
The National Urban Poverty Reduction Programme (NUPRP) is a large-scale United Nations Development Programme project that aims to ensure that rapid urbanization in Bangladesh is inclusive and results in better livelihoods and living conditions for poor urban residents. My internship with NUPRP involved assisting senior members of staff in project tasks, contributing to a report about livelihoods interventions and authoring a paper about the importance of food security as an aspect of poverty reduction. I also accompanied international consultants on fieldtrips and sat in on meetings with donors, NGOs and municipal leaders. The internship was a valuable learning experience in which I was able to witness first-hand how large-scale development programs are conceived and organized. Dhaka was a challenging environment to work in, but it was highly rewarding to apply so many of the skills and concepts learned during the MA in Food Studies to real life project tasks, and to have the opportunity to engage with my colleagues and the communities with whom they work.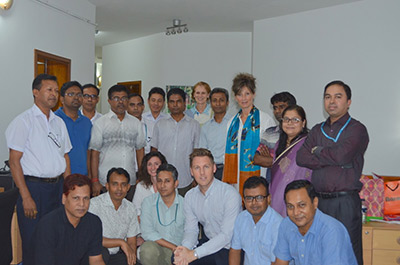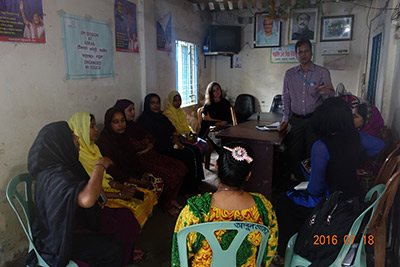 ................................................................
Kathleen Fantozzi, M.A. Food Studies

Bioversity International, Italy
I interned at Bioversity International who, alongside their partners, are developing a tool to generate insights on consumer preferences and acceptability of better quality diets when compared to current diet composition. The tool aims to close a gap in the understanding of the convergence between what people want to (or currently) eat and what is healthy for them to eat, i.e. diets that meet nutritional recommendations for both adequacy and moderation for micro-nutrients and to achieve recommended proportions of energy, carbohydrate, fat, and protein. My role was to prepare background literature related to drivers of consumer choice and consumer choice theory to inform the development of the consumer acceptability tool to be tested in Ethiopia and Vietnam. I hope this internship leads to a future job!
................................................................