Guest lecture by Dr. Mohammad Hossein Emadi, Ambassador and Permanent Representative of the Islamic Republic of Iran to FAO, IFD and WFP.
How to bridge traditional knowledge with innovations to generate appropriate approaches for a low cost transformation process toward a more sustainable food and agricultural system?
During the last two decades, a wide range of studies in different continents have shown how local and native food systems have been functioning in a balanced manner, not only with regard to nature but also to the nutrition of humankind in any given time and geographic location.  Where human beings have succeeded in coexisting with their natural environment, very efficient food systems have been achieved. In these cases, the local people have not only succeeded in feeding themselves for centuries, but they have also maintained a balance with their fragile environment.  Faced with rapidly transforming food and agricultural systems, some international organizations and institutions are turning to indigenous knowledge about agriculture and nutrition systems and are trying to apply it more widely. Where this is not possible, they are seeking to reinvent indigenous knowledge with innovations that enable us in our current lifestyles to achieve sustainable food systems, balanced diets, and healthy nutrition.
About the speaker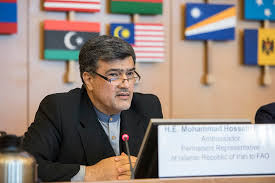 Mohammad Hossein Emadi, currently Ambassador and Permanent Representative of the Islamic Republic of Iran to the Rome-based agencies, was formerly Vice-Minister of Agriculture in Iran.  He also worked in Afghanistan as Senior Policy Advisor playing a major role in policy formulation for reconstruction, including the establishment of the Afghanistan Institute for Rural Development.   His experience includes involvement with agricultural innovation in China.
Dr. Emadi holds a Ph.D. in the field of 'Systems Agriculture and Rural Development';  has carried out research in the Middle East, Iran, Afghanistan, China and Australia.   Has served in research centers and several universities and has a wide range of publications on rural development, agricultural innovation and productivity, indigenous knowledge in Iran and Central Asia.   
Register your attendance at Forthcoming AUR events