Dr. Glauber is a Senior Research Fellow at the International Food Policy Research Institute (IFPRI) in Washington. Previously, he spent over 30 years at the U.S. Department of Agriculture, and he was also the chief agricultural negotiator in the Doha talks. His areas of expertise are price volatility, global grain reserves, crop insurance and trade.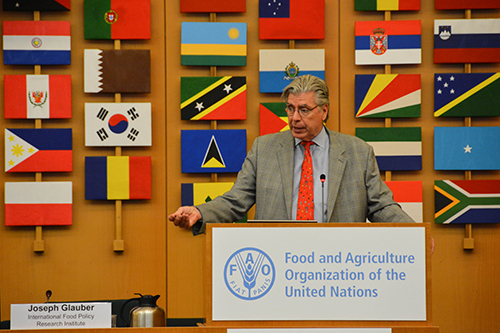 The topic of Dr. Glauber's lecture was 'Addressing Global Nutrition Problems'. He gave an overview of the status of undernutrition in the world as well as data on overnutrition and obesity, pointing out the persistence of these problems in some countries while also acknowledging a general progress. He then showed the growth in international agricultural trade, including south-south trade. He drew the attention of the audience to the increased trade of processed food products that are considered to be the exportation of bad nutrition, in that such products are high fat (turkey tails, mutton flaps), high sodium (snack food) and sugar-sweetened beverages. In conclusion, Dr. Glauber reviewed the most common policies followed by governments and their impact on nutrition: domestic farm policies, trade measures, taxes, subsidies and labeling/education.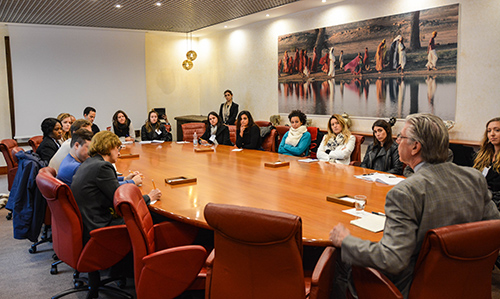 At the end of the talk, the AUR students of the Master in Food Studies were invited to an exclusive round table meeting in the India Room with Dr. Glauber where they had the opportunity to discuss more in depth some of the points raised in the general lecture. Dr. Glauber gave an update on the Farm Bill and, when asked, expressed the view that farm support policies distort prices and should gradually be eliminated. He also elaborated further on taxing items to discourage consumption and highlighted the importance of analyzing the impact, citing the cases of Mexico and Berkeley. He answered questions on taxing 'junk food', pointing out the difficulty in defining 'junk food'. He also reported on a recent study demonstrating that labeling affects little change in behavior.