AUR Team of students and faculty attend the Seeds & Chips – The Global Food Innovation Summit, Milan 7-10 May 2018
Two AUR students from Syria were invited by Marco Gualtieri, Seeds & Chips Founder, to participate in the Summit and to take part in two prominent discussions. 
Rama Jalab (Communications) was featured on a panel with Starbucks Executive Chairman Howard Schultz.  Based on her experience of Starbucks in Lebanon, she asked Howard Schultz whether Starbucks, in addition to coffee, sells more spiritual values and a cosmopolitan way of life.   "One has to imprint the product with values" responded Howard Schultz "our values are truth, trust, and transparency". In his talk, Howard Schultz emphasized how Starbucks cares for its employees who benefit from health insurance and company-paid college education, and how, in general, the company has always kept a balance between profits and pursuing a positive social impact. For example, Starbucks will be hiring 10,000 refugees. When asked about where he saw the demand of citizens going, he stated that consumers will demand more plant-based foods. He concluded, "Businesses will have to do more as governments are not doing their share".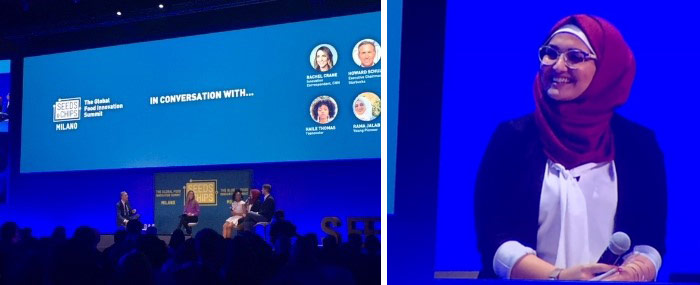 Firas Al Jabban (Business Administration) was featured on a panel with former U.S. Secretary of State John Kerry where he posed the question about what can be done to reduce the impact of the Greenhouse Gas emissions of the food system. John Kerry explained the lengthy international negotiations on climate change that culminated in the Paris COP21 Agreement, a success for diplomacy. He reiterated the importance of diplomacy and the importance for governments to devise and implement energy policies leading to reductions in Greenhouse Gas Emissions.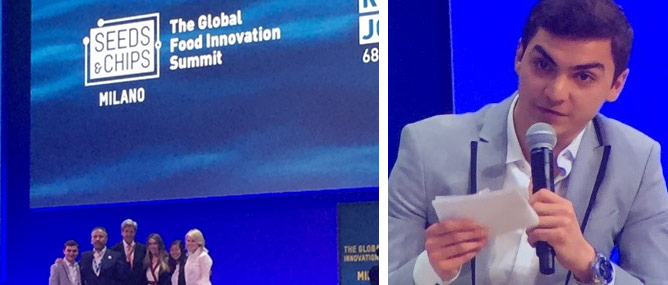 Some observations from the AUR team on the Summit exhibits and presentations on 7 and 8 May.
"I want to be a farmer!" This was the opening statement at the Summit by a seventeen-year-old student.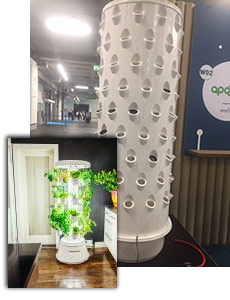 Seeds & Chips offered a platform to individuals, companies, and organizations to showcase their products and innovations in the food sector. A fundamental theme of the Summit was Water Thirst/Water First, with one entire hall devoted to it. More than 220 exhibitors displayed and talked about their inventions and products, many of them being very young people, a group especially promoted by the Summit organizers.    
WATER
Products were exhibited on how to recycle water; to purify water using nanosensor systems; to produce drinking water directly from high saline seawater and brackish water resources as well as from any kind of non-saline polluted water resources (e.g. rivers, creeks, wells). A small appliance was shown that can make up to 10 gallons of water a day simply by mining it out of the air, of usefulness to people who do not have access to fresh water, be they farmers or indoor growers.
 
URBAN FARMING
Numerous ways were shown of hydroponic, aquaponic or soil-based operations in urban settings with artificial light. Some of them relied on ingenious ways of making use of limited grow space with modular stackable systems or 'nutritowers'. Others consisted of household appliances run with robots.  Many examples were given of vertical farming.
SOCIAL ENTERPRISES
Smallholder farmers were the focus of many presentations and the work of several organizations.  Baobab Mozambique was one of them, a social enterprise with smallholders producing and exporting organic powder and baobab oil. Women have 20% of the shares in the company.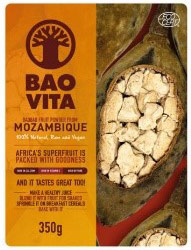 NOVEL FOOD AND NEW DISTRIBUTION CHANNELS
The public could see and taste some novel foods, advertised as good for your health and good for the planet.  Cricket biscuits were available and also bread and pasta enriched with cricket flour, thereby with a greater amount of proteins.    Seaweeds in the form of spaghetti and bacon were also offered. In addition to seaweed harvesting from the ocean, mass production of algae can also occur through photobioreactors.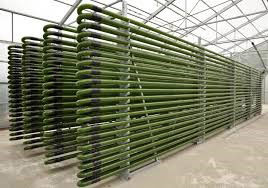 RESEARCH AND INNOVATION
Several organizations attended the Summit, ranging from the Foundations of Syngenta,  Bayer and Bill Gates Foundation to Bioversity International of the Consultative Group on Agricultural Research and the U.N. organizations, the Food and Agricultural Organization and the World Food Programme. The sessions included representatives from these organizations together with smaller think-tanks, activist organizations and farmers' associations. Cases were reported on developments in gene editing, digital tools and farm management technologies, various applications of precision agriculture and the development and distribution of 'scuba rice' which can withstand floods in flood-prone countries. 
SCUBA RICE
Examples were shown of technologies responding to the needs of farmers in developing countries and of participatory plant breeding programs. The need was discussed for research to 'scale up' and also to 'scale out' of the laboratories and to be evaluated according to whether the results have been taken up by the actors concerned and not just whether they have been published. 'Regenerative agriculture' was highlighted as the type of agriculture that is needed to counteract the negative externalities produced by industrial agriculture through its focus on soil life, storing water and sequestration of CO2.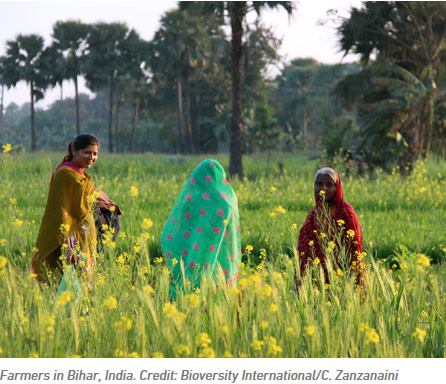 It was pointed out that there is a need to create a demand for a more sustainable agriculture and greater agrobiodiversity. More than 50% of our calories are derived from just three crops, rice, wheat, and maize; there is work to be done to create a demand for the neglected and underutilized species. Food losses and waste was another area covered by many participants and where there is a myriad of different technological innovations.
The two days spent at the Summit were a useful demonstration of the complexity of the food system governance: the role of the private sector in business development with a social impact, research and innovation; the need for government policies in the areas affecting agriculture, as the energy policy mentioned by John Kerry;  the regulatory frameworks needed at the international level for food safety and trade and the role of civil society organizations in exercising moral pressure and developing enterprises for a socially just food system. The importance of developing research on the neglected and underutilized species was also reiterated in order to counteract the severe reduction of agrobiodiversity that is occurring in the world.   
Watch the keynote speeches
You can watch the keynote speeches by Howard Schultz, Starbucks Executive Chairman, and John Kerry, 68th U.S. Secretary of State, here.