Total silence fell across the audience at the Sanremo Festival this year, an audience that is well known for expressing its favor (or not) for those on stage. Rula Jebreal, in her much-anticipated, heartfelt, and impassioned monologue held nothing back...
Rula's monologue
-Were you wearing underwear that night? 
   
-Do you remember searching the internet for the name of a birth control that morning?
 
-Do you find men in jeans sexy?
   
If women don't want to get raped, they have to stop dressing provocatively.
       
[Pause]
   
These are just some of the phrases used and questions addressed to victims of sexual assault in courtrooms.
 
Questions that imply a bitter, cruel truth: we women are never innocent. We are not because we denounced too late, or because we denounced too early, because we were too drunk, too beautiful, or - even - too ugly.
 
Because we were too uninhibited and "We went looking for it"
       
[Song Lyrics]
   
I grew up in an orphanage, along with hundreds of girls. In the evening, one by one, we little girls told a story, our stories. They were sad stories.
   
Not fairy tales of mothers who reconcile sleep, but tales of unlucky daughters, who took sleep away. We told stories about our mothers: often tortured, raped, murdered...
   
Every night, before we went to sleep, we all together got rid of those words of pain.
I love words. I learned, coming from places of war, to believe in words and not guns, to try to make the world a better place. Especially for women.
 
[Pause]
 
But then there are the numbers.
   
And in Italy, in this wonderful country that welcomed me, the numbers are outrageous.
   
In the last 3 years, three million one hundred and eighteen thousand women have been sexually harassed at work.
   
In the last 2 years, an average of 88 women a day have been victims of violence and abuse. One every 15 minutes.
 
Every three days a woman has been killed. 6 women were killed last week.
   
And in 80% of cases, the perpetrator doesn't need to knock on the door for a very simple reason:
   
He has a key to the house. His footprints are on the doormat, his lip marks on the glass in the kitchen.
   
[Song Lyrics]
       
My mother Zakia, who everyone called Nadia, took her last train when I was 5. She committed suicide, setting herself on fire.
 
But the pain was a slow flame that had started to rise and blacken her clothes when she was just a teenager. Her body was something she wanted to get rid of, it had been the "place" of her torture. Because my mother Nadia was brutalized and raped twice: at 13 years old by a man and then by the "system" that forced her to silence, that did not allow her to denounce.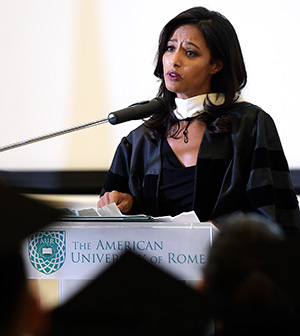 [Pause]
   
Because wounds bleed more when you're not believed.
   
The man who raped her for years, whose indelible memory was with her as the flames devoured her body... had the keys to the house.
   
[Song Lyrics]
   
How many times we women have been Sally. While I'm talking to you, there's a woman walking down a street, crushed with guilt, having no guilt at all.
   
You have NO guilt.
   
While Franca Rame was raped on March 9, 1973, the year I was born, she sought salvation in music. "I must remain calm. I must stay calm. I stick to the noises of the city, to the words of the songs, I have to stay calm", she recited in her powerful monologue "The Rape", in which she retraced that dramatic fact.   
 
The songs I quoted tonight were all written by men.
   
Therefore, you see? You can find the right words.
You can write about love, respect, and care.
   
And now is the time for those words to become a reality.
It's time for those words not only to be sung but to be lived, every day...
To do that, we have to fight.
Scream.
Always.
From every stage.
Even when they will tell us that "it's not appropriate".
   
I have become the woman I am - even for my mother, and thanks to my daughter. Miral, I owe it to them... We all owe it to a mother, a daughter, a sister, a colleague, and even to good men, to the very idea of civilization and equality. To the greatest idea of all: that of freedom.
   
I'm talking to men now. Let us be free to be who we are: mothers of ten children and mothers of none, housewives and career women. Be our allies, our partners, get indignant with us when someone asks us "What have you done to deserve what happened to you?"
   
[Song Lyrics]
 
And I'm here tonight celebrating women and music. I'm here to talk about what needs to be said.
   
Of course, I'm wearing my best dress, but the point of it all, after all, is right here. In the right words, in the right questions.
   
Tomorrow ask yourselves how the women who led San Remo were dressed... "How was Jebreal dressed?"
 
But never again ask a woman who was raped "How were you dressed that night?"
 
My mother was afraid of that question.
My mother didn't make it.
And so many women.
 
And we no longer want to be afraid, we can no longer be victims or orphans, a share or an accessory. We want equality
 
We want to be respected, accepted, loved.
 
And we have the right to protection and care when we denounce.
 
I owe it to my mother Nadia.
We owe it to our mothers.
 
We owe it to all of us.
And I also owe it to myself.
 
[Pause]
 
We owe it to our daughters.
 
We owe it to all the girls, here and there.
 
Because nobody can dare to take away from them and us the right to fall asleep with a fairy tale.
 
We, women, want to be free in time and space, we want to be notes, silences, and noises and we want to be this: music.
 
 
[Translation by The American University of Rome]
Read more from the Sanremo Festival here.
---
The American University of Rome's Rula Jebreal Scholarship Fund was established in 2015 with the objective of providing an American education to young men and women from conflict-torn countries around the world. Together with award-winning journalist, author, foreign policy analyst and AUR Visiting Professor Rula Jebreal, AUR successfully launched the program. Ms. Jebreal's invaluable collaboration has since grown to provide support for seven students from Syria, Swaziland, and Egypt.
AUR shares with Ms. Jebreal a dedication to providing young people with life-changing opportunities through education. Her energy and commitment to this scholarship initiative are rooted in her own personal experience of being "saved by a scholarship" as a young woman. Rula states: "I always felt […] an obligation to extend that same opportunity to others".  Her leadership, along with the generous support of committed donors, have helped make a difference in the lives of the students who have received funding for their academic careers at AUR.