The students in the master's program in Food Studies traveled to Torino this fall to attend the Terra Madre Salone del Gusto, an international conference hosted by the City of Torino and Slow Food which brings together policy makers, chefs, farmers, activists, students, and others from every corner of the world of food and agriculture to celebrate and engage in discussions about the future of food.
The City of Torino is a leader of the Slow Food movement, and is also home to the University of Gastronomic Sciences, which makes it the perfect center for this huge and important event. In attendance were Yacouba Sawadogo, or, "the man who stopped the desert"; guerilla gardener, Ron Finley; Miguel Altieri, Professor of Agroecology at UC Berkeley; chef, restaurateur and activist, Alice Waters; and the founder of the Slow Food movement, Carlo Petrini, just to name a few.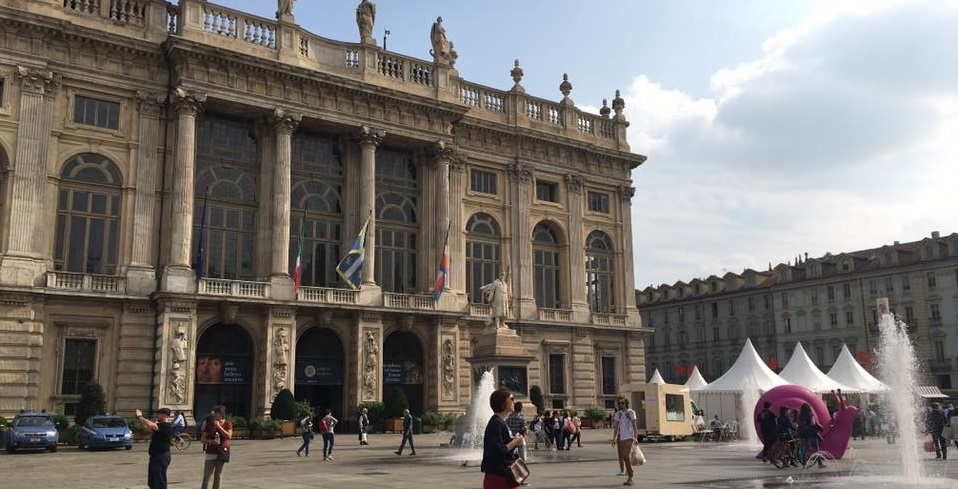 While the lectures attended by students at Terra Madre stimulated the mind, the Salone del Gusto outdoor market in Parco del Valentino stimulated the taste buds with tents representing each region of Italy, and sharing their unique food products and processes. Regional pride and the preservation of traditional practices is a key facet of the Slow Food philosophy, and students had the chance to watch pasta being made, sample freshly sliced prosciutto, and taste wine and beer from across Italy.
After a weekend of lectures, workshops and tastings, the students took a bus ride through the hills of the Piedmont region to the town of Cuneo, and spent the afternoon touring the region's largest family-owned wine estate, enjoying a winery tour and a degustation of a selection of Barolo wines. The trip came to a close in Langhe, with an elegant three course meal at La Rosa dei Vini, a small restaurant perched on top of a hill whose menu features traditional dishes from the area.  
Author: Kate J. Truini