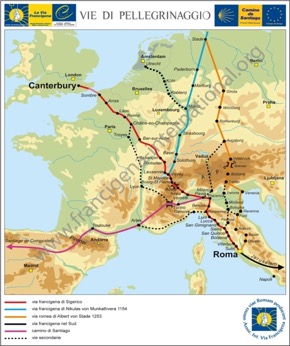 Simone Quilici, a landscape architect with a Ph.D. in urban, spatial and environmental planning from the University of Florence, who works as a cultural heritage officer for the Lazio region of Italy, spent a morning with the students in the Contemporary Issues in Cultural Heritage course illuminating a variety of career options that exist within the field. While he has accumulated experience in management and architectural duties as a heritage officer in the regional government, he focused his discussion in particular on the Lazio section of the Via Francigena, where he works in the department of Heritage Validation.
The Via Francigena is a multi-national historical pilgrimage route extending from Rome through Switzerland, France, eventually ending in Canterbury, England. It is recognized both as a world heritage site and one of 29 routes listed by the Council of Europe. The COE, which supports the promotion of European Culture as one of its four main goals, focuses on cultural routes as a prime example of shared heritage that stretches across national borders.
Dr. Quilici described the many challenges that he faced on the via Francigena project, from architectural adjustments to providing municipal oversight and cohesion across Lazio – facilitating the passage of the route through a farmers' lands or transforming a water tower into a vantage point, amongst other challenges. He emphasized the importance of making the route safe to travel, creating unified signage and the compromises with local communities necessary to accommodate the via Cassia, where most of the traditional Italian route lays, which today is a main auto throughway.
Throughout the lecture Dr. Quilici demonstrated the importance of communication at all levels: between nations, between the route and its walkers and between the demands of historical authenticity and the people whose lives and work are impacted daily. Author: James Capuzzi