On March 2, 2018, a group of M.A. Food Studies students took a field trip as part of the course on Food, Rurality and Local Development to visit Metafarm, located outside of Naples in Positano, on the slopes of the hills leading down to the beautiful Amalfi coast.
"Metafarm" is an organization with the purpose to act within the global food system by designing local activities and events strictly related to rurality. Their mission is to reestablish a more balanced relationship between food and people. Accordingly, "Metafarm" focuses on small-scale production and uses a multidisciplinary approach to challenge the systemic vulnerabilities of the current food system. The pillars of its approach are active participation, education, community awareness and research.
Under the guidance of Prof. Emilio Cocco and Giacomo Miola, co-owner of Metafarm, students explored an example of "new rurality", which is progressively changing the Italian and European countryside by making the "rural" more attractive and useful for society as a whole.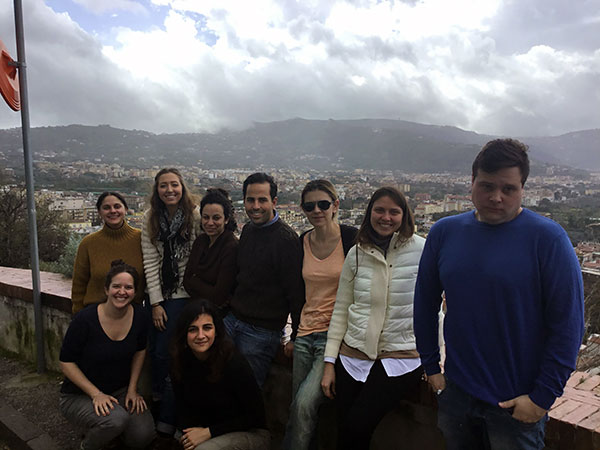 The AUR group followed Giacomo on a gastronomic hike to the hills above Positano, an area still untouched by the noisy waves of mass tourism. Students were involved in foraging and wild plant harvesting, filling their baskets with flowers, leaves and grass. At the same time, they were learning about the names, origins and traditional culinary use of these ingredients that cannot be found in restaurants or learned about in a local tourist office.
Giacomo and the Metafarm team left their previous careers in unrelated fields, such as designing and psychology, in order to return to the rural. They restored the old family house on the higher part of the hills, towering above the blue sea below, with the aim to offer international visitors the opportunity to embody and experience the landscape surrounding Positano that is not a part of conventional tourism. To forage and cook at Metafarm is a way of reviving the old and established rural culture that Giacomo hopes will serve also to empower a community strained by emigration and demographic loss.
AUR students proved to be skilled cooks and even better gourmets. In spite of the lavish self-made meal with an abundance of wild plant-based dishes (homemade ravioli, quiche, fried green leaves and other delicacies), there was still room to enjoy a traditional pizza in the bustling center of Naples before taking the train back to Rome!
Enjoy this small gallery of images from the day: