Dr. Davor Džalto (Program director and professor of Art History, Religious Studies, and the Master's program in Peace Studies at The American University of Rome) was a guest speaker at the International Conference on Religious Consciousness in a Post-Secular Society, held Dec. 12-15, 2017 in Moscow, Russia.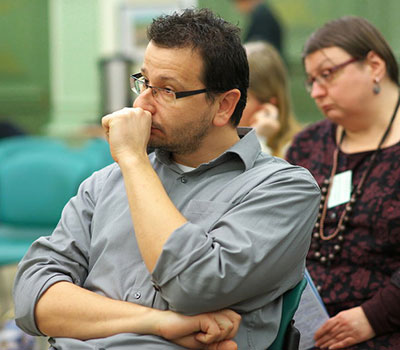 The conference was organized by St Andrew's Biblical Theological Institute (Moscow), Vrije University (Amsterdam)  and Pokrovskie Vorota Cultural Center (Moscow). Topics focused on re-examining religious consciousness, as something that depends on historical, cultural and political contexts, and may experience drastic changes over time. Speakers discussed religious consciousness in so-called "post-secular" times, in which religious perception is largely shaped by ideas coming from science, popular culture, mass media and other fields. Being affected by different aspects of contemporary life, religious consciousness is becoming a very complicated and tangled phenomenon.
Professor Džalto's presentation examined the question: "What does it mean to be a Christian in the post-secular society?"
The presentation addressed some of the most basic questions related to the religious/Christian identity:
Is it, and to what extent, necessary to follow certain practices (such as religious rituals) in order to exercise one's religiousness?
What is the significance of institutional belongings and "prescribed" practices, as factors that build up someone's religious identity?
How do we make sense of the "inner" set of beliefs and knowledge as important (and often neglected) aspects of being a religious person?
What is the significance of the "letting others to believe for me" phenomenon for the articulation of contemporary (both Christian and non-Christian) religiosity?
Many of these questions are examined in AUR's Master's program Peace Studies: Religion in Times of Conflict which looks at understanding religious and cultural history as the foundation for building peace and cross-cultural understanding in today's world. For more information on this innovative program, visit: https://graduate.aur.edu/program/ma-peace-studies