Dr. Mahsvari Naidu, a senior lecturer in Anthropology at the University of KwaZulu-Natal in South Africa, gave a guest lecture at AUR on Robben Island tourism and the relationship that South Africans and foreigners have with its difficult heritage. Robben Island is best known for its prison, one that famously held Nelson Mandela during his fight against apartheid. This island prison site has since evolved into a national heritage site and today is a UNESCO World Heritage Site, attracting a huge number of visitors. It is also physically imposing on the horizon of Cape Town, making it impossible to miss. The prison holds significantly more intangible heritage, as the stories and experiences of prisoners are more valuable than the actual structure itself.
Dr. Naidu's research focused on the experience of visiting the prison and, in particular, the deep emotions generated by seeing Nelson Mandela's tiny cell. She interviewed numerous tourists upon their arrival to Robbin Island and on their return from the guided tours, and came to understand that for many visitors it had been a transformative experience. With many of the tour guides having been actual prisoners there, their ability to connect to the site heightened the emotional impact of the tour. The combination of these guides and the power of memory led to an experience where tourists felt connected to each other and were able to empathize with the site and its history. Although many of them were not from South Africa, they were able to feel as though they understood the suffering of this evocative site. Despite the fact that Robben Island is a site of suffering and a witness to the cruelty of apartheid, the overall message that the visitor leaves with is not negative. Robben Island does not want to be seen as a memorial to victims of the past but as a symbol of hope for the future for both South Africa and the rest of the world.

Author: James Capuzzi
Original Event Listing
(Re)positioning Memory and Heritage: Anthropology of Tourism at Robben Island Museum
Robben Island, situated 8km off the coast of Cape Town, or Mother City as it is affectionately known, is unmistakably etched into the horizon and 'visible' in more ways than one to the local, as well as visiting eye. It is one of those sites that is, at once poignant and powerfully evocative of a painful past. Hoelscher and Alderman (2004: 349) very rightly assert that "few places are as electrified with symbolic power and political contestation as Robben Island." The declaration of Robben Island to the status of UNESCO Heritage Site is a recognition of the political and cultural potency of the site. In the context of tourism however, the cultural potency of the place is also ostensibly a constructed and enacted one.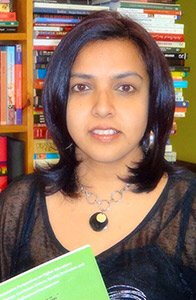 This presentation looks more specifically at narrativised and historicized heritage in the context of Robben Island Prison Museum. I argue that Robben Island Museum acts as a performance space for the experiencing of a collective shared past and history by attempting to show how 'heritage' is constructed and experienced within the space. I argue that the visitor is placed into a liminal space by the manner in which the tour is fashioned and experienced and that the constructed heritage product (or tour), emerges as a 'liminal space' where different racial categories of visitors, who have had differently shaped life histories, are made to 'experience' a shared past (heritage) of denial and oppression.
Professor Maheshvari Naidu
is Academic Leader of Research in the School of Social Sciences, University of KwaZulu-Natal in South Africa. She is a feminist anthropologist and teaches from a critical feminist perspective. She is widely published in national and international peer reviewed journals.
Her research interests are among others; Anthropology of Tourism, Anthropology of Religion, Power and body politic, African Feminism and Gender. Her interest in heritage, identity and tourism is from an anthropological perspective. Thus, issues of ritual and performance, space/place, time and memory are aspects that draw her gaze in the context of cultural heritage tourism.
She has acted as guest editor for national and international Journals and been invited to deliver seminars and keynotes at University of Seychelles and Graduate Institute of Gender in Geneva Switzerland. Her current Africa Gender institute project with University of Cape Town allows her to participate in an inter-institutional project with several southern African universities. She is also in the context of cultural heritage tourism
She has graduated twelve Masters and seven Doctoral students and is currently supervising a large cohort of postgraduate students.