On an unexpectedly hot and sunny Saturday October 21, 2017, a mixed group of undergraduate and graduate students travelled down the spectacular Italian coast. Our destination was Sperlonga and Terracina with the aim of seeing the Villa of Tiberius and the Temple of Jupiter Anxur, two very well preserved archaeological sites. The Villa of Tiberius itself is sparsely excavated and possibly too small to be a real imperial villa, but the star attraction is the adjacent rock cut swimming pool. It originally contained groups of statues of various characters from the Odyssey by Homer which are reconstructed in the nearby museum. The Romans believed that all the tales related by Homer in the Odyssey took place along this coast and many of the modern place names derive from this.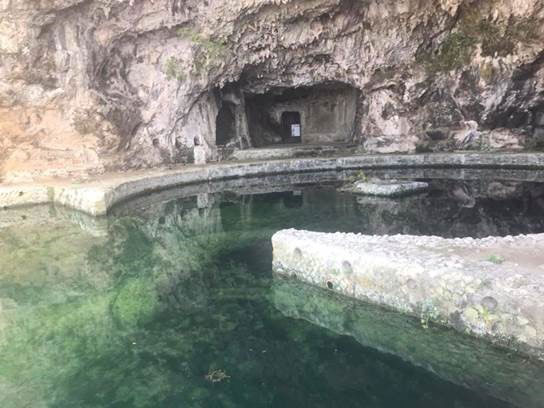 The Temple of Jupiter Anxur is situated on the headland above Terracina and the hairpin bends certainly tested the skills of our driver. It was a 1st century BCE temple that has many well-preserved arches and it makes the most of its prominent position. As well as being a pagan site later it became a pilgrimage site for Christians journeying to the Holy Land who would have climbed the large hill in order to worship.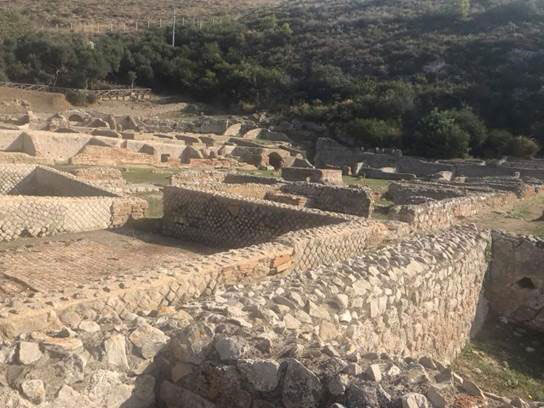 The finds of the pool of the Villa of Tiberius are interesting from a Cultural Heritage standpoint as the local citizens of Sperlonga fought to keep the statues and other artefacts from being shipped to Rome. Their efforts and desire to keep their "treasures" as a potential source of tourist income led to the construction of a museum in 1963 that houses the artefacts and reconstructions, also controlling entry to the archeological site itself. The citizenry clearly felt that these artefacts belonged to them and not Rome, sparking a debate as to whether antiquities are the property of the state at large or the municipality in which they are found. This debate is played out across Italy in many provincial museums. Although fewer people may see the art, often it contributes very significantly to the local economy by attracting tourists, so it is a continuing debate as to which is the better solution.
Author: James Capuzzi