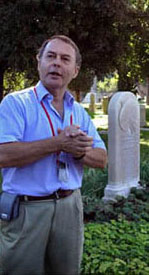 On October 20, 2017, Nicholas Stanley-Price, a conservationist with a Dr. Phil. in Archeology from Oxford University guest lectured a Sustainable Cultural Heritage class on his role as a member of the advisory committee of the Non-Catholic (Protestant) Cemetery in Rome. His lecture focused on the practical aspects of maintaining a site that is both an active cemetery and also an important historical place housing the tombs of famous visitors to Rome such as Shelley and Keats. He illustrated some of the challenges this dual role entails for the management of the site.
 
The mission of the cemetery is centered on creating a respectful atmosphere for visitors to the burials, bearing in mind that as well as important historical figures the cemetery also contains the tombs of people with families who visit and care for the graves. Individuals can still be buried there if they meet the criteria of being non-Catholic, non-Italian and residents of Rome so the primary concern of the cemetery has to be to support these families. This is contrasted with the status of the cemetery as part of the UNESCO World Heritage Site of Rome and the need for it to be conserved according to those obligations.
 
Funding is a particular challenge. The cemetery receives no state funding and as it is an active cemetery it is felt that a compulsory charge would not be appropriate. Visitors are asked for a donation which assists in maintaining the site and large groups require a reservation, seen as a compromise between the two roles of the cemetery. With some assistance from private donors for specific tombs and various other grants and NGO funding the cemetery is able to function and preserve its heritage while maintaining a peaceful and respectful atmosphere.
Author: James Capuzzi