The M.A. students traveled to Montepertuso overlooking Positano on March 8, 2019 to take part in a "Gastronomic Trekking" experience hosted by the cultural association Metafarm.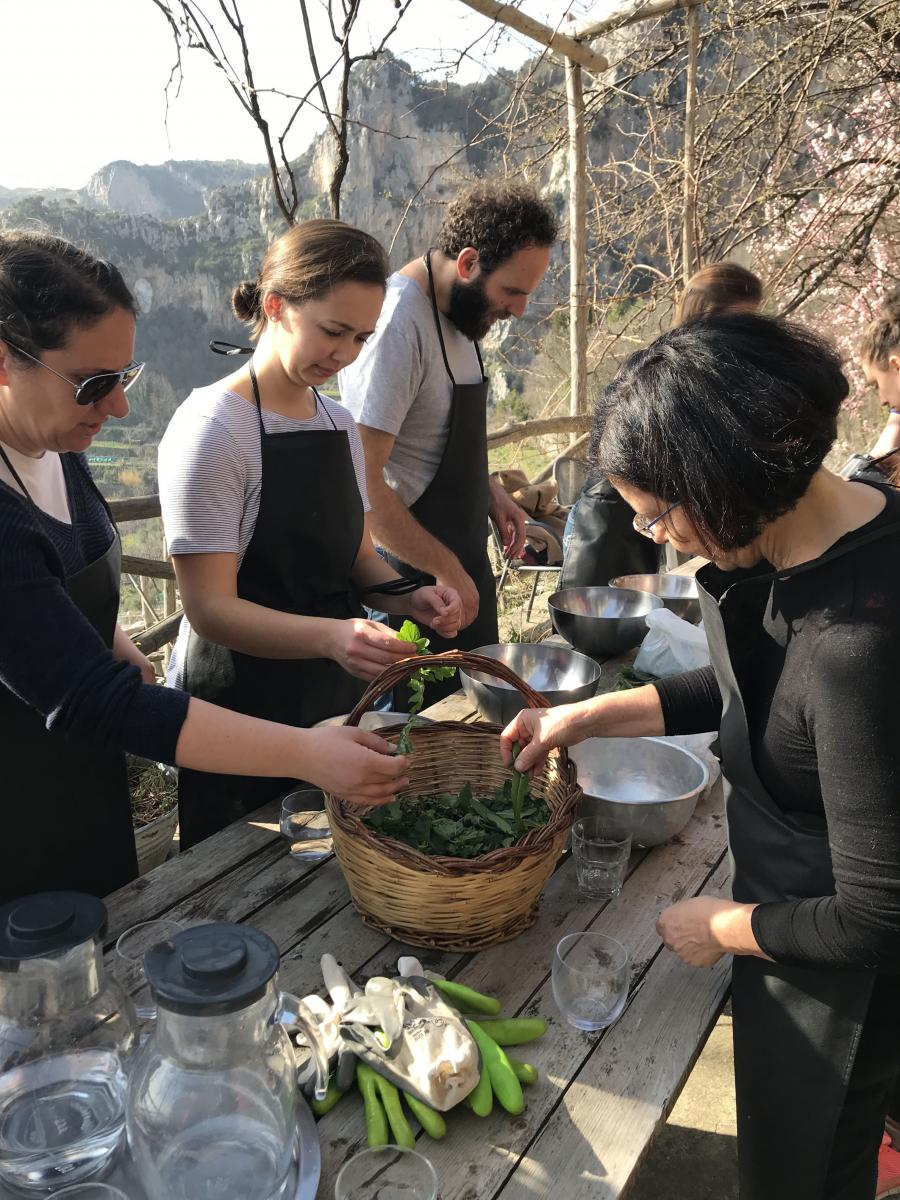 As part of the Food, Rurality and Local Development course, students learned how Metafarm is trying to revitalize the rural landscape by engaging consumers in an alternative, experiential form of tourism. The students learned about the Monti Lattari ("Mountains of Milk") where there used to be more than one thousand cows – birthplace of Fior di Latte cheese – and how their legacy is threatened by the abandonment of agriculture. The students hiked the mountain foraging for wild edibles, both along pathways and forest trails, guided by the Metafarm founder Giacomo Miola. On their way, they were hosted for a small snack of tomatoes and 'mozzarella' by a farm family in their home. In the evening, the students and the Metafarm team prepared a meal with the collected wild edibles and enjoyed a delicious meal. They then sat down with Professor Cocco and Giacomo, to reflect on the day and discuss ecotourism, rurality, and the future of small-scale agriculture. 
The thriving commercial tourism industry of Positano has impacted the surrounding rural areas with the disappearance of small-scale farming; and yet, the beauty of the landscape that feeds tourism, namely the fertile terraces with the lush lemon trees and vegetation is the result of farming practices going back to the Middle Ages. The same farming practices that ensure soil retention and prevent landslides. The goal of Metafarm is to eliminate the idea of 'the rural' as distant and to emphasize the experience of tourism, rather than just providing services. By identifying and picking wild plants, meeting and eating with farmers, and cooking with the fruits of their labor, tourists are actively involved in the landscape. In doing so, Metafarm creates networks with the rural populations of the Monti Lattari. Is gastronomic trekking a way to revitalize the rural areas?
The class reconvened the following morning for a final discussion before meandering back down the mountain to see the city of Positano and ultimately return to Rome. There is no doubt that the trip was one of the highlights of the school year, allowing students to enrich their studies of rural development while reveling in the beauty and the flavors of the Monti Lattari.
Author: Eva Reynolds