Longtime friend of the AUR Center for Food Studies Dr. Harriet Friedmann held a guest lecture entitled "Sustainable Diets: Contending and Entangled Pathways" on October 18, 2018. Dr. Friedmann centered her presentation on the idea of orienting agricultural policies to promote human as well as ecological health, making references to food anthropology, sustainability advocacy, and hunger and malnutrition relief programs. As society has come to acknowledge that human well-being depends on dietary and ecosystem diversity, there is growing a need to promote a sustainable food culture.
To contextualize her arguments, Dr. Friedmann traced histories of human dietary evolution, nutrition studies, and the interweaving of environmental concerns into food and agricultural policy. While the Millennium Ecosystem Assessment in 2005 first identified agriculture's role in climate change, it was not until ten years later that the objective of sustainable agriculture was linked to food security and nutrition targets, via the United Nations' Sustainable Development Goals. Industrialization and globalization have generated a change in agriculture from an "anchor of culture" to a "tenuous component of global sourcing strategies," Dr. Friedmann explained. Addressing malnutrition, so-called 'overnutrition', hunger, climate change effects, and resource scarcities requires a shift in both agriculture and diets to resemble traditional, more plant-based models. However, Dr. Friedmann cautioned that calling for the complete elimination of meat is a fool's errand and instead encouraged sustainable agricultural development and reduced animal product consumption. She also expressed skepticism of the "9 billion people by 2050" projection, emphasizing the need to focus on small farmers rather than scaling up agriculture to meet population demands.
The talk was open to the public and well-attended, including in its audience employees and interns from the Food and Agriculture Organization of the UN (FAO) and Bioversity International, among others. Following the presentation, a lively Q&A allowed Dr. Friedmann to discuss some of her topics in greater depth with curious students and professionals alike. The Center for Food Studies is grateful for Dr. Friedmann for her continued engagement with the M.A. Food Studies program.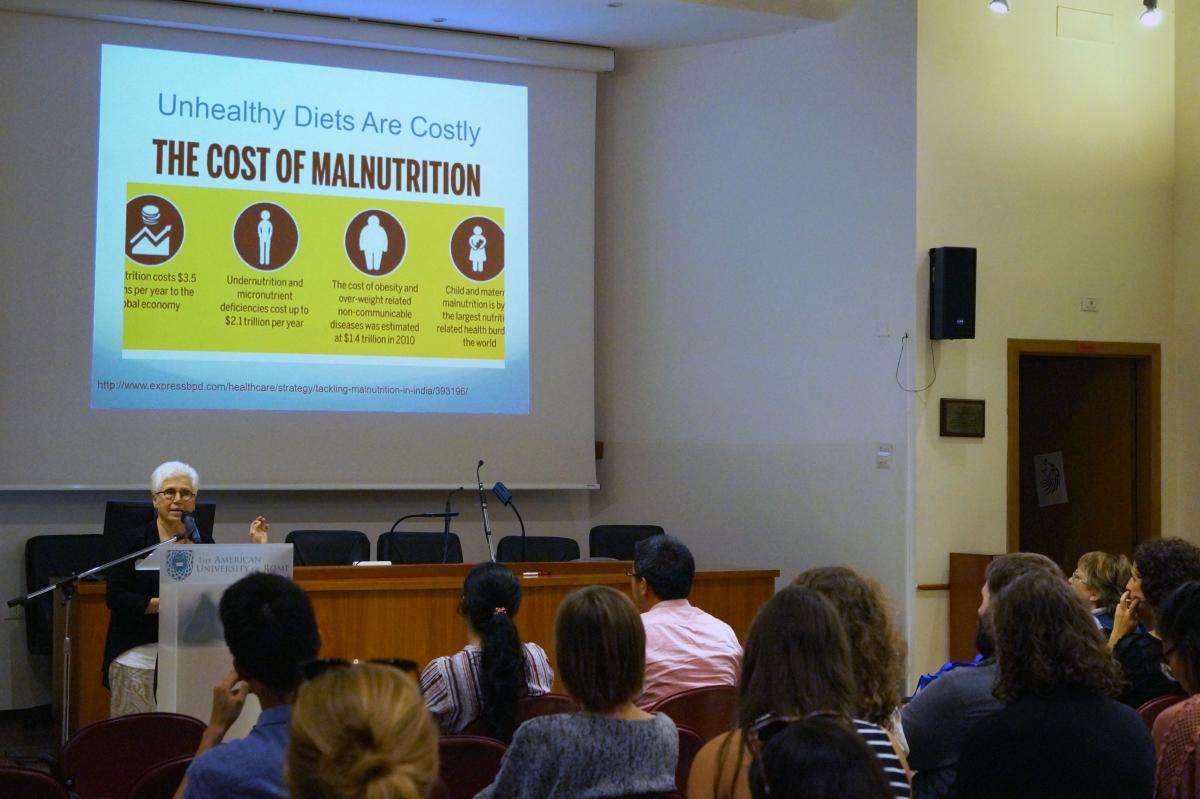 Author: Eva Reynolds