On February 23 and 24, 2018, the Arts Management Master program at AUR ran the first of two seminars with visiting professors that are part of the elective The Value of Art: Art Criticism and Art Market – a course on the intricacies of the contemporary art market. For this first guest seminar, AUR welcomed Prof. Vincent Honoré, currently senior curator at the Southbank Centre in London and art director for the Baltic Triennial. Prof. Honore' has previously worked at Palais de Tokyo in Paris (2001-2004), at Tate Modern in London (2004-2007) as a curator, and at the David Roberts Arts Foundation as the founding director and curator (2008-2017).
During the two-day seminar, the Arts Management cohort enjoyed a mix of lectures and site visits. Professor Honoré covered a vast range of topics, including not just the general structure of the art market, but also more nuanced issues concerning the nature of desire and collecting, problems around pricing an artwork, the role of museums as tastemakers, and the commissioning of artworks. With his diverse and impressive background in both the public and private spheres of the artworld, Professor Honoré was able to give us first-hand examples of his experiences on the job. Adding yet another layer were the site visits to galleries around Rome like T293 and Monitor which gave students opportunities to speak with even more professionals like Francesco Dama of Galleria Lorcan O'Neill and Adrienne Drake of Fondazione Giuliani.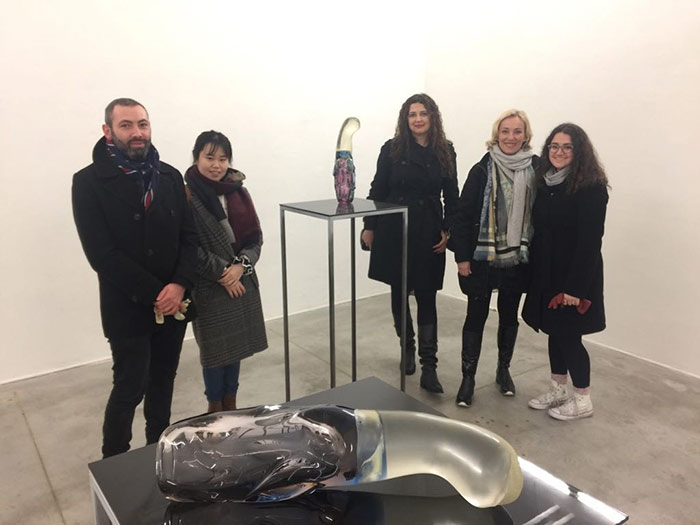 In the end, students were left with a larger understanding of a somewhat mysterious field with lots of peculiarities. Professor Honoré presented this market as one of intricate relationships and furthermore supported students as they critically assessed the nature of the market and all of its actors.
Author: Halle Jarvi (student, M.A. Arts Management)