Dr. Harold Alderman, Visiting Faculty of The American University of Rome, Senior Research Fellow of the Food Policy Research Institute (IFPRI) will be giving a seminar in FAO on 18 January 2018 on the recent book he co-authored entitled "The 1.5 Billion People Question: Food, Vouchers, or Cash Transfers?".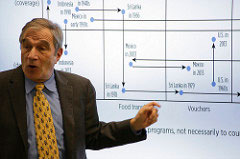 India's state of Chhattisgarh faced a daunting challenge in the mid-2000s. About half of its public food distribution was leaked, meaning that it never reached the intended beneficiaries. By 2012, however, Chhattisgarh had nearly eliminated leakages, doubled the coverage of the scheme, and reduced exclusion errors to low single digits.
 
How did they do it?
 
Recent experimental trials have helped immensely in estimating the comparative impacts of cash and food transfers with precision and minutiae. But they don't tell us how change occurs, a question for which we need to look at a broader horizon of time, perspectives and factors. The exploration of such quandary is the core tenet of the new edited volume, The 1.5 Billion People Question: Food, Vouchers, or Cash Transfers?
 
The book examines if and how large-scale, domestic food-based programs in six countries evolved over time, including the Ration Cards and Baladi bread subsidies in Egypt, the Targeted Public Food Distribution System (TPDS) in India, the Rastra (ex Raskin) scheme in Indonesia, the Programa de Apoyo Alimentario (PAL) in Mexico, the Samurdhi food stamp program in Sri Lanka, and the Supplemental Nutrition Assistance Program (SNAP, or ex-food stamps) in the United States.
[Header photograph: Jamed Falik/IFPRI]