As one of the first four graduate students at the American University of Rome, I, along with my peers, had the privilege of discovering the nature of the Sustainable Cultural Heritage program as it happened. Questions we were often asked were 'There's a masters degree at AUR?' and 'What the heck is Sustainable Cultural Heritage?'. The truth is, we all had no real idea. The four of us found this program by chance. One day AUR had no Graduate program and the next day it did. I applied without knowing fully what I had applied for. Luckily for me it was exactly the program I had been looking for my entire life.
I had always wanted to be an archaeologist. There was never a question of what I wanted to do. However, I never felt fully committed to the idea of archaeology that didn't benefit local communities. I wanted to do archaeology that helped people. So how do you combine these two life dreams? The question was always how and why. When I found this program, I found my place. If fate exists, this is mine.
The program for Sustainable Cultural Heritage is an exciting and groundbreaking assemblage of archaeological theory, business skills, and current issues regarding heritage and sustainability in a rapidly changing and unsustainable world. We had instructors that were in the field doing amazing things to protect cultural heritage in conflict zones; We spent a week at a mosaic conservation lab in Rieti; We were given a personal tour of ICCROM; We assessed damage using GIS technologies; We developed and presented a grant proposal to ICCROM; and finally, choosing our own internships, we were sent into the world of heritage to make a difference.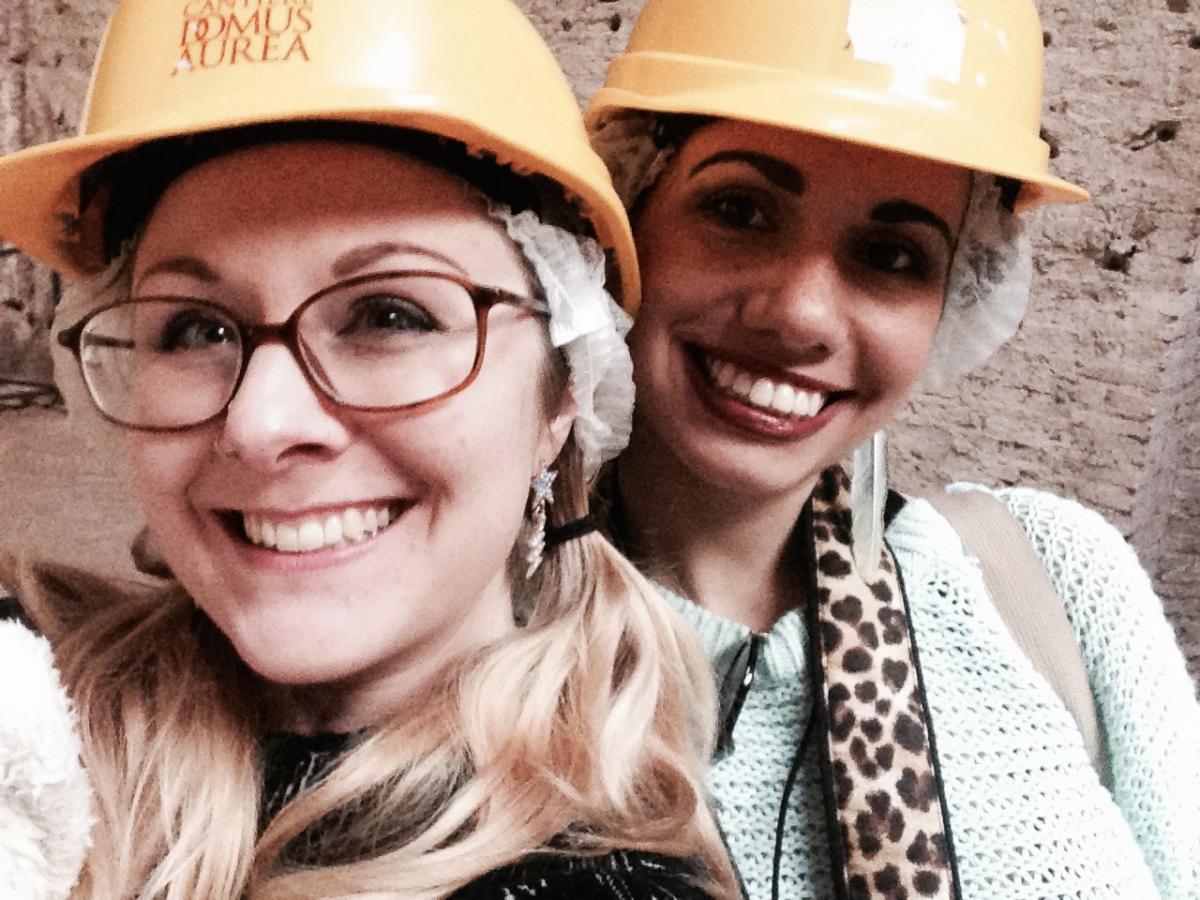 I personally found and contacted Bert de'Vries, a lead archaeologist in Jordan who started a community archaeology project with the local Bedouin. I worked with UNESCO to create lesson plans for tours that local women would eventually implement at the site of Umm el-Jimal. I created budgets, conducted interviews, and even learned some Arabic.
Overall, my time at AUR has been one of the most incredible and empowering experiences of my life. If I could I would do it all over again! (Even write the dissertation). The relationships I have built with my classmates are relationships that will last a lifetime. They are my friends, collaborators, and colleagues.
As I end my thesis and, ultimately, my time at AUR, I am excited to look for jobs that I am qualified for. It is likely that I will be creating my own position using my newly found grant writing skills. My hope is that the program at AUR expands, bringing in new minds and innovative spirits to the field of cultural heritage. Together we will change the norms of heritage management to promote sustainability.
Lauren Coughlin