The week of October 15-19, 2018, the M.A. Food Studies students had a unique opportunity to attend the 45th Session of the Committee on World Food Security (CFS), an annual conference hosted by the Food and Agriculture Organization of the UN (FAO). Representatives from non-profit organizations, the private sector, and governments all over the world gathered to participate in formal plenary sessions as well as a series of side-events, typically discussion panels on various topics concerning food security. This year's Food Studies students registered as participants in the CFS and attended one such side-event, "Let's get down to business: Public-private partnerships for achieving the Sustainable Development Goals," on October 17 as part of their Global Food Economy course.
The panel, hosted by the Swedish FAO Committee and Swedish government, revolved around the idea of making business the driver of sustainable development. Panelists from the Swedish multinational corporation Tetra Laval, the NGO Vi Agroforestry, the Swedish International Development Cooperation Agency (SIDA), the International Institute of Tropical Agriculture, and the FAO's Division of Partnerships and South-South Cooperation spoke about their experiences in collaborations between public and private sectors on different sustainability projects. Collaboration itself is not a goal, one panelist noted, but rather the means to achieving overlapping sustainable development and business objectives.  After the event, Professor Termine took the class on a small tour of the building and discussed the panel presentations in the FAO cafeteria.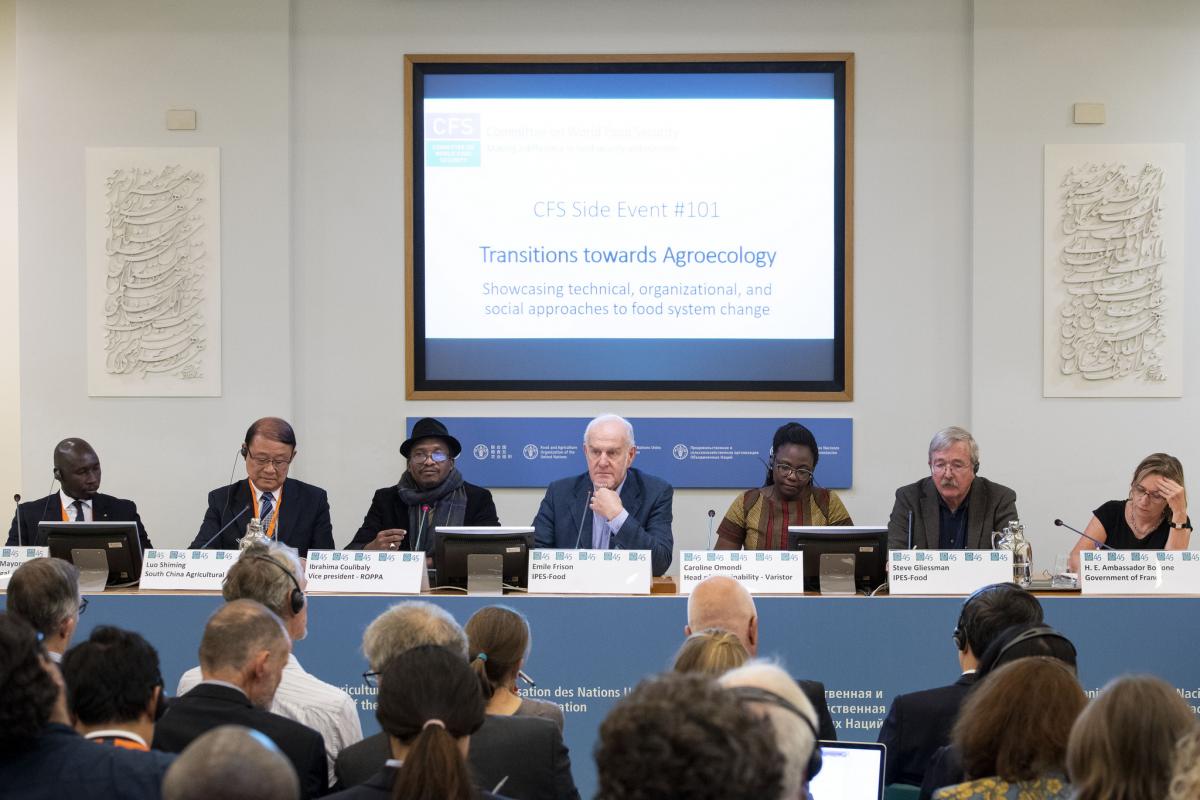 Some students also attended the side event "Transition towards Agroecology," organized by Switzerland, the Ministry of Agriculture and Rural Affairs of China, the International Panel of Experts on Sustainable Food Systems (IPES-Food), the Réseau des Organisations Paysannes et des Producteurs Agricoles de l'Afrique de l'Ouest (ROPPA), France and Senegal.   At this session, chaired by Prof. Emile Frison, panelists presented case studies from around the world in which farmers, social movements, and political leaders have successfully implemented agro-ecological approaches to agricultural production.
These experiences were not only enriching because of what the students learned during the events but also because, for most of the students, it was their first time in FAO headquarters.  Participating in events like the CFS highlights the uniqueness of the AUR Food Studies program for its ability to engage students with surrounding institutions on food policy.
Author: Eva Reynolds
Photo credit: ©FAO/Carlo Perla